Fiction, poetry and comedy
For fiction, you can do no better than outlay a modest £7.50 (+ £1 postage and packing) for my book of eight short new ghost stories, The Promised Land. Visit the Store page….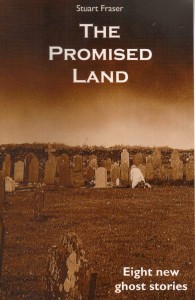 Here's a poem that appeared in an anthology called Spirit of Cornwall (Stuart House Trust).
And here's 'Breathe', published in the May 2014 edition of Acumen Literary Journal.
Breathe
The river's exhaling
a child's breath of haze
on the dull glass of morning.
Soft-whistled,
huffed to hover
in wisps of grey
on the water's face,
mist on its wet window.
These wraiths of warmth
haunt the chill
of water's winter.
On this mist-canvas
I fingerpaint pictures,
trail my core of life,
imagine it onto
the unknowing surface.
How thin is that blanket,
how hardly-seen,
how easily ushered aside
by a mind's finger.
But it is there,
that slender hope of heat,
on all the river's
coldest mornings.
Here's my script 'Hackgate and Beyond', written in response to a BBC request for rapid response five- to ten–minute sketches inspired by the media scandals.
Here's a scene from my sitcom 'Rockard':
And here are links to some of my pieces on the satirical website NewsBiscuit:
http://www.newsbiscuit.com/2011/06/28/bbc-in-new-care-row-over-top-gear-home-for-elderly-and-bewildered/
http://www.newsbiscuit.com/2011/06/16/kipling-scholars-discover-new-poem-%e2%80%98iffy%e2%80%99/
http://www.newsbiscuit.com/2011/07/03/worcester-family-becomes-first-ever-to-use-new-camping-set-a-second-time/
http://www.newsbiscuit.com/2011/07/06/ministry-of-defence-%e2%80%98mislays%e2%80%99-small-war/
http://www.newsbiscuit.com/2011/07/25/new-bbc4-film-dramatises-pivotal-comedy-moment-when-nothing-happened-at-all/
http://www.newsbiscuit.com/2011/07/26/hate-me-hate-me-again-says-nick-clegg-pissing-on-the-cenotaph/
http://www.newsbiscuit.com/2011/08/01/cheering-crowds-greet-first-orgasm-since-1993-2/
http://www.newsbiscuit.com/2011/08/08/cricket-success-prompts-emergency-inquiry-into-crisis-in-english-game/
http://www.newsbiscuit.com/2011/08/21/shame-faced-parents-admit-friends-who-warned-about-kids-were-right-all-along/