Little things mean a lot
What did you have for lunch? Hope it wasn't a toasted sandwich. It would have cost you 20% more than yesterday.
The pasty – hooray! – may have escaped, but some hot takeaway foods like toasties and rotisserie chicken have still fallen victim to the Government's latest bid to prove to us that we don't pay enough in tax. From today the price rises by a fifth, though we must hesitate to use the term 'value added tax' because that would clearly be a nonsense.
If you did have a pasty, don't worry yourself about failing to make enough of a contribution to society – there'll be another chance along soon. Like an increase in energy prices. Again.
What bugs me all the time is that this bullying and cheating is being perpetrated against a nation of really quite nice people.
For example. This summer I did some publicity work for the excellent Sterts Theatre and its Arts Council England-funded community play Cornish Phoenix, which was a huge success – justifiably, for it was brilliantly written (words and music) and performed, by a fantastic local cast under writer Nick Stimson.
When we started work, I said to Nick that Management and I saw his play Korczak a few years ago at the Theatre Royal, and had never forgotten it. It was the most hauntingly moving account of a hero of the Warsaw Ghetto, a good and kind teacher who died rather than forsake the children in his care, walking to the death trains hand in hand with his little charges. Nick did great justice to this story and its life-affirming message of the power of love. Kathy and I cried for a week. Great theatre.
This week there arrived from Nick as a gift the CD of the music from Korczak, by Chris Williams.
There also arrived another gift, from a kind brother and sister of this blog, the DVD of Cornish Phoenix, now available at a very reasonable rate from Sterts (follow the link on the left). And in the programme, the kind folk there had already included my website address.
Last week I handed somebody our old TV digibox after their kit broke. Back came a bottle of red wine.
Brother Hamster, unasked and unpaid (as yet, but one day, in kind), has been including promotional ads for yours truly and Brother Hazzard in his mailings of material all over the world, bless him.
Brother Rich passed on a couple of little gifts to my boys for no reason other than kindness, and that after a month of he and Sister Chef remembering both their birthdays.
The family of my dear departed friend, John, have sent us a small cheque for the boys after sorting out his financial affairs. John, who was single and had no kids, had made no provision, having been far too young to die. But his mum, dad and sister thought he would have liked to give his nephews a little something, and so he would, for he was a kind and generous man.
School had a visitor last week – the headteacher of their linked school in Uganda, Daniel Hamia. Daniel went home to his school armed with various small gifts, such as a sprayer to protect crops, and boxes of books.
Such little kindnesses are what make life worth living.
And people do these things despite facing sadness and difficulty, being abused, conned, lied to and ripped off left, right and centre. They don't live like for like, they rise above it. Talk about a triumph of the spirit.
I do think part of the political problem from which we suffer – apathy and mistrust – is down to the fact that there truly is nobody speaking for the people who try to be kind yet get stiffed all the time. Us.
For example. Where is the party that inspires people to fight for fairness by refusing to pay rising energy bills? We could identify a rate that guarantees a price for the product and a small profit for reinvestment in infrastructure, pay that and no more.
But such a campaign needs togetherness to ensure safety, and that requires organisation, and that requires something we used to have in this country, called a political opposition.
Instead we have lots of public schoolboys and professional politicians struggling like crazy for new ways of telling Daily Mail readers they can carry on living their safe middle-class lives with no changes of any kind whatsoever barring a few examples of safe dogmatic bullying, like changing exams.
Austerity Cornwall
It is possible to save money, mind. I've spent many happy, laughing carefree hours in recent weeks sorting out car and house insurance and investigating ways of reducing the monthly outgoings.
(Captain Kay, by the way, tells me he has now decided to take his own austerity measures and abjure fornication. This, he assures me, will save cash by negating the need to maintain such fripperies as clean underwear and bedding. As he's in advanced dotage anyway, I'm not sure about the extent of the sacrifice.)
Brother Fiddle's tip about boot-socks – turn holy ones upside-down – is a useful little saving. I'm now applying it to all my clothing, though walking round with my old pants on my head can be embarrassing.
I've found out other little ways of saving – for example, if you pay your line rental to BT annually, it's slightly cheaper than if you pay by the month. And big ways: shopping around for insurance really does help, and so does bargaining. I've pegged about £400 off one of the cars and the home insurance. It seems scant recompense for the many hours of my life that I'll never have again, spent listening to call centres, but there you go.
And long term strategies: we've replaced my beloved old jeep with a little city car which is brand new, costs £90-odd quid a month, has no road tax, is £120 to insure and does lots of miles to each gallon. I much preferred my jeep, but this thing will save us a lot.
Funny things, cars. There are a few in my life of which I've become fond, and the old Toyota was one of them – I think it comes from shared experience, actually, journeys made at important times or to important places, or just good times. I shall miss it. But I shall enjoy spending less money.
Nuts
Great excitement yesterday at the Church House Conker Championships, dominated, I'm pleased to say, by our brothers and sisters.
(Here was another event put on for fun by folks like Brother Rich, giving their own time. The boys and I, too, took part in a largely futile hunt for conkers, by the way – we found barely enough for the contest. What a terrible year for fruit and nut – Cadbury's will go bust.)
Anyway, Brother Woodward triumphed having produced a European Ryder Cup-like comeback against Brother Bertie in the final, Bertie having earlier felled our Matron, the bookies' favourite. Yours truly fell in the first round, but the Firstborn shared the children's championship with a small Hamster, so family honour was upheld.
Sadly, Brother Fiddle and Old Father Cullingham refused to take their wizened old nuts into combat, but were with us in person or in Twitter.
So it really must be Autumn, then. Isn't it about time people started decorating their houses for Christmas?
And finally, 1
The historian Eric Hobsbawm has died, a giant of the democratic left, a towering intellect, a man who kept the faith all his long life and never gave up or sold out. He was respected and admired all over the world. He argued all his life for fairness and justice. He was a Marxist and he loved jazz music. You can't greatly mourn a long life (95!) of such pleasure and achievement, but you can spare a moment to thank the fates, or whatever deity you follow (in my case, the Coconut Eating Crab), that he was ever here.
And finally, 2
Here, at last, thanks to the further improvement of my service to you, is Brother Stents' (yes, Officer, I have his full name and postal address for you) disgraceful offering on the subject of the Duchess and her adorable little puppies.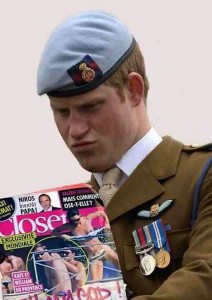 Comments
Write a comment
You need to login to post comments!